Subscribe to Liza Alley blog
As more and more months tick by, buyers keep asking me, what is better right now... should I keep trying to buy a house knowing it's a seller's market right now, or should we just wait and rent until buyers have more of a fighting chance? Well, according to Keeping Current Matters it looks like renters are not doing much better. In fact,
"Single-family rent growth hit its sixth consecutive record high. . . . Annual rent growth . . . was more than three times that of a year earlier. Rent growth should continue to be robust in the near term, especially as the labor market continues to improve."
Yes, there are benefits to renting a house vs. buying, such as fewer (if any) maintenance costs, also things like having less stress about the home because it's not yours. You also have the freedom to move or downsize when necessary once your lease is up. The Truth About Mortgage shows a Pros of Buying a Home vs. Pros of Renting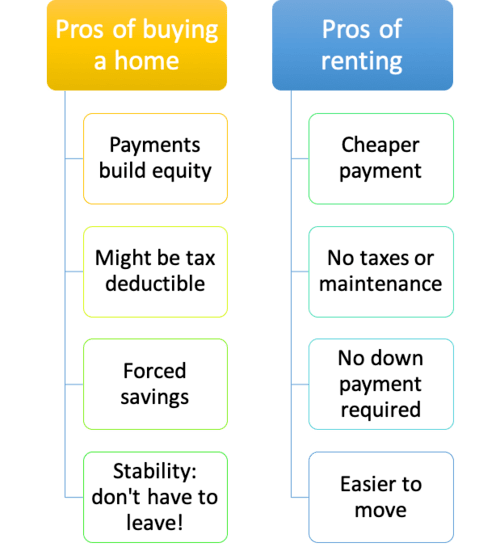 I think sometimes you have to ask yourself what is easier for you? Some people are not in a position to buy, so it's a clear decision. However, some like the idea that they have an option to move when a lease is up, and also like the idea that they don't need to maintain the home to the same standards as owning. Sometimes, it's the desire not to deal with property taxes and or have a down payment. But with that, Keeping up with Current Matters mentions that,
when you rent, that rising cost benefits your landlord's investment strategy, but it doesn't deliver any sort of return for you.
Also,
In contrast, when you buy a home, your monthly mortgage payment serves as a form of forced savings. Over time, as you pay down your loan and as home values rise, you're building equity (and by extension, your own net worth). Not to mention, you'll lock in your mortgage payment for the duration of your loan (typically 15 to 30 years) and give yourself a stable and reliable monthly payment.
It looks like there are benefits from both sides, to be honest. It is just a matter of what is best for you! One of the small benefits of renting that a lot of people don't consider is deciding on a location. Sometimes, a renter will choose to only rent with a one-year lease to figure out if they like the location they are renting at. Things like the entertainment around them, how convenient is the commute to work, friends, appointments, etc., are important. In return, once the lease is up, they feel more confident buying in the location they were renting or considering a different location.
Invest In Real Estate or Keep it in the Bank?
Keeping up with Current Matters says it best,
Bottom Line - If you're weighing your options between renting and buying, it's important to look at the full picture. While buying a home can feel like a daunting process, having a trusted advisor on your side is key. Work with an agent to explore your options so you can learn more about the benefits of homeownership today.
It really is important that you work with someone that helps set you up for success when or if you decide that you want to buy. Things like making a homeownership list like
Save For Your Down Payment
Work on Your Credit
Work With a Real Estate Professional
Get Pre-Approved
Sometimes, the best thing that someone can do is investigate. Going to a mortgage loan officer and finding out what you are approved for and how to get your credit score to be in a position to buy. Talk to a Real Estate Agent, ask questions about locations, and send them a wish list of what you would like to buy and see if it's realistic in your price range.
Bottom line, whichever option you choose depends entirely on your lifestyle and financial situation. But there are several differences that make renting and owning property distinctly different. Renting a property doesn't come with all the responsibilities associated with homeownership, and you have more flexibility, as you aren't necessarily tied down to your property. However, owning your home gives you a sizeable investment, but it does come at a big cost—both upfront and over the long run.
Key takeaways for renting (Pros and Cons)
As a renter, you may face rent increases each time your lease is up for renewal. As the rental market changes from lows to highs, so does the amount you may pay for the lease term.
When renting, while the lease might change year to year, you know exactly your housing costs each month (determined by your lease so you can plan accordingly). For example, your landlord may also include other costs within that amount (i.e., utilities, storage, and homeowners' associations (HOA) fees if you live in a condominium.
Renting means you're able to move whenever your lease ends. BUT it also means you could have to move suddenly if your landlord decides to sell the property
Short-term commitment could be very beneficial for people who have a hard time committing to a location and home.
No maintenance costs. Renters are not paying for any maintenance costs
You pay a lower upfront cost
Key takeaways for Owning (pros and cons) when buying Real Estate.
When you Buy Real Estate, it's yours, with that you can make decisions about the look and design of the space
Long term commitment
building equity (savings)
Federal Tax benefits
More Privacy
stable monthly payments (fixed mortgage rate - through the life of the loan)
upkeep, to continue to maintain your home is your responsibility
Much higher upfront cost
In addition to general locations (such as in the city or the suburbs), I would suggest you consider buying a home in Monroe. It has become a growing community, with more and more new construction being built. Also, by buying a home in places a little farther out like Monroe, you can get more house and property for your money. You can find a real estate agent like myself (who makes her own home in Monroe) who knows the area and would help you win that bidding war that might happen with the current market either here or any other location that you desire.
Keep in mind that there are many benefits when you Buy Real Estate, but ultimately, as I mentioned earlier, it really is situational. And ultimately, it's entirely about you and what makes you feel comfortable. If you have any questions, I would love to help! Please feel free to contact me! HERE
And if you are ready to buy, let's get started!

Posted by Liza Alley on